RE-TRUST workshop in St. Petersburg, June 19-20, 2008
Agenda
Thursday, June 19, 2008
09:50 - 9:55
Opening
09:55 - 12:50 - Morning session
9:55 - 10:45
User's Identification and Key Generation Based on Human Biometrics
(Invited talk)
Prof. Valery Korzhik
State University of Telecommunications, Russia
10:45 - 11:05
Coffee Break
11:05 - 11:55
Cryptographic mechanisms for information authentication and unauthorized copying software protection
(Invited talk)
Prof. Nikolay Moldovyan
Specialized Center of Program Systems "SPECTR", Russia
11:55 - 12:35
Remote software protection by orthogonal client replacement
Mariano Ceccato, Mila Dalla Preda, Anirban Majumdar, Paolo Tonella
ITC-Irst, UNITN
12:45 - 14:15
Lunch
14:15-18:00 - Afternoon session
14:15 -14:55
Sebastian Faust
Private Circuits Revisited: A Formal Treatment of Power Analysis
Katholieke Universiteit Leuven
14:55 - 15:35
Towards Experimental Evaluation of Code Obfuscation Techniques
Mariano Ceccato, Jasvir Nagra, Massimiliano Di Penta, Marco Torchiano, Paolo Tonella, Paolo Falcarin, Filippo Ricca
ITC-Irst, UNITN, POLITO

15:40-16:00
Coffee Break
16:00 - 16:40
Design and Analysis of Entrusting Protocol
Vasily Desnitsky and Igor Kotenko
SPIIRAS
16:40 - 17:20
Analysis of verification tools for security protocols
Sergey Reznik and Igor Kotenko
SPIIRAS
17:20 - 18:00
Verification of Entrusting Protocol using AVISPA and Isabelle
Sergey Reznik
SPIIRAS
19.00
DINNER (Address: 26, Dvortsovaya emb., House of Scientists)
Friday, June 20, 2008
10:00 - 12:50 - Morning session
Discussions on Second Year Review reports
Alessandro Zorat (respons.)
10:00 - 10:45
Discussions on D2.3. Methods to dynamically replace the secure software module and to securely interlock applications with secure SW module
Discussions on D2.4. Protection methods for hardening the secure software module
10:45 - 11:05
Coffee Break
11:05 - 12:45
Discussions on D3.2. First Analysis Encrypted Code and HW assisted SW Protection
Discussions on D4.2. Trust analysis of SW-based method
Discussions on D4.3. Analysis of the Reverse Engineering Complexity
12:45 - 14:15
Lunch
14:15 - 15:30 - Afternoon session
Prototype discussion
DI CARLO Stefano (respons.)
15:30 - 15:40
Closing
15:40 - 16:00
Coffee Break, Farewell party
Accommodations
Please note the prices are quoted in Russian rubles.
The official rate of Russian Central Bank is available at http://www.cbr.ru/eng/currency_base/daily.asp
(Currently 1 EURO is about 36-37 rubles)
NaMuchnom hotel (about 3000 — 3500 rubles for a single room)
Address: 25, Sadovaya st.
«Na Muchnom» is a small and cosy hotel that located in the centre of Saint-Petersburg and capable to satisfy the most versatile tastes. Our guests can reach Kasansky Cathedral, Russian Museum, Aleksandrinsky Theatre only after some minutes of walking. Walk under the brisk Nevsky prospect will allow to reach Hermitage, Capella and Peter and Paul Fortress with Peter and Paul memorial cathedral.
Tel.: +7-(812)-310-0412; +7-(812)-310-021
Web site: see http://en.namuchnom.ru
Herzen-House hotel (3800 rubles for single room)
Address: 25, Bolshaya Morskaya st.
«Herzen-House» is a small cordial hotel opened in 2005. Most of the city sightseeing places (St. Isaac?s Cathedral, Russian State Museum, Kazan Cathedral, Peter-and-Paul Fortress) are within walking distance from the hotel. There are 20 rooms of 3 types in the hotel. All rooms are decorated in the same style, quite plain, comfortable and cozy. Each room is equipped with TV, telephone available for international calls, alarm-clock, internet line access, bathroom with warm floor and shower, hair-drier.
Òel: +7-(812)-571-50-98; +7-(812)-314-64-06; +7-(812)-315-55-50
Web site: http://www.herzenhotel.spb.ru
Comfort hotel (4200 rubles for single room)
Address: 25, Bolshaya Morskaya st.
The Comfort Hotel, located in the very heart of St. Petersburg, just a few yards off the Nevsky Prospect, the main city's thoroughfare, is the mini-hotel that harmonically combines the world-class comfort with the friendly home atmosphere that adds a specific Russian tinge.
The Moscow Railway Station is 2 kilometers off the hotel and the Pulkovo International and Domestic Airports — 15 kilometers.
Tel./Fax: +7-(812)-314-65-23
Web site: http://www.comfort-hotel.spb.ru/
Nevsky Forum hotel (6200 rubles for single room)
Address: Nevsky prospect, 69
Perfect for those in search for a warm welcome to St. Petersburg and friendly personal atmosphere. The hotel is located in the very heart of St. Petersburg, on the Nevsky Prospect. The Nevsky Forum is a very business focused hotel, we have listened to our guests and created this package for you.
So what is included: Access to WiFi Broadband internet in the privacy of your room, Sauna and health club, Rates competitive for Nevsky Prospekt.
Convenience and comfort. Two qualities guests require. And the two words that aptly describe Nevsky Prospect?s welcome addition to Russian hospitality, the Nevsky Forum Hotel.
Tel/fax: +7 (812) 333-0-222
http://www.forumhotel.ru/en/
Venue
Novotel hotel, it is located in the city centre.
Address: Mayakovskogo str. 3a / Nevsky prospect 191025 St. Petersburg, Russia
Tel.: +7 812 335 1188
Web site: www.novotel.spb.ru/eng
How to reach venue
Venue is situated in the city centre. Depending on a hotel where you will live the distance to the venue requires about 5 — 25 minutes on foot through the historical centre of St. Petersburg (see the Google Map below).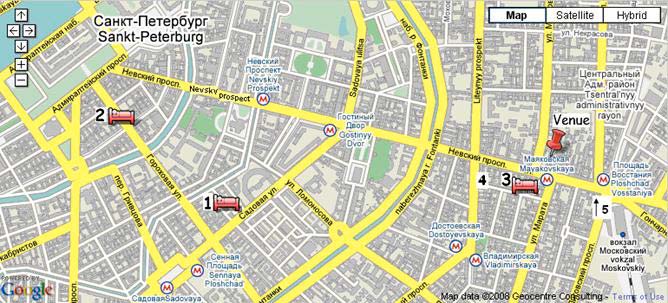 In the map:
The 'pin' symbol marks the venue point — Novotel hotel
NaMuchnom hotel
Herzen-House hotel & Comfort hotel
Nevsky Forum hotel
Apartments for Brecht and others
Direction to Karelia hotel
The scale is 500 metres.
How to reach the city centre from the airport
The airport Pulkovo is situated to the south of the St.Petersburg centre at the distance of 15 km.
The possible way to get to the city centre from the airport is to use taxi.
Alternatively, it is also possible to take a public bus at the airport to get to the Moskovskaya underground station and then use the subway to reach the city centre (see the subway plan below). Currently the fare (a token) in the underground (from each to each station) is 17 rubles.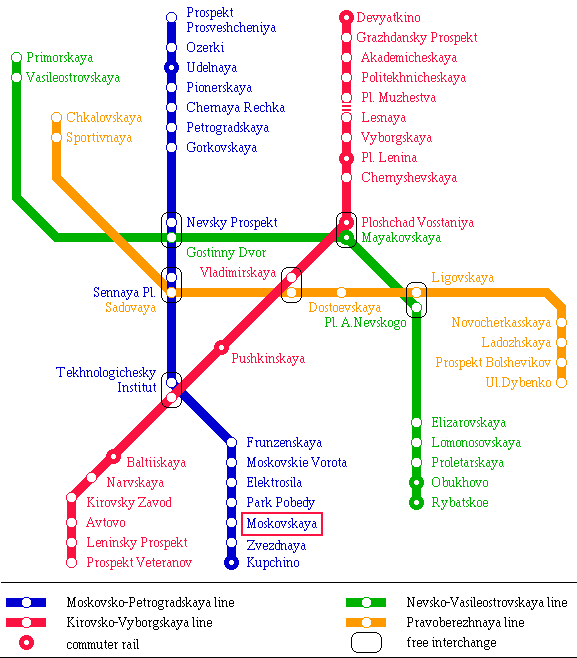 Recommendations on VISA receiving
When you will book a room in a hotel, please indicate that you need support of visa getting. You should also include your complete passport data and terms (arrival and departure dates of your flights) there.
Then the hotel will send you (by fax or/and surface mail — depends on Russia embassy/consulate requirements in your country):
Visa Support Letter
Hotel confirmation
When getting these documents you should get to know location of the nearest Russian embassy/consulate in your country, contact with them to learn all necessary information. Normally the documents you need to require Russian visa are:
Completed visa application form (you can get it in embassy/consulate or from their site)
Passport quality color photograph
Valid passport
Visa Support Letter
Hotel confirmation
The cost of hotel's visa support is 300 RUBLES (about 9 EUROS). If you are booking a room in Herzen-House hotel or Comfort hotel and you are going to be at the least 3 nights in the hotel it will be free.
Banquet Venue on 19th evening
The Banquet venue «House of scientists» (Former palace of the Grand Duke Vladimir) is located in the center of the city. It will take you about 20-30 minutes of walk from the closest metro station «Nevsky prospect». You will pass buildings of the 18-19th century along the main street of the city Nevsky prospect, walk through the historical Triumphal arch and get to the Palace Square with the Winter palace (former main residence of the emperors), and then along the embankment of the Neva-river from where the picturesque view opens.
House of Scientists, Address: 26, Dvortsovaya emb., St.Petersburg, 191186, Russia